Aliya's Foods Limited (Chef Bombay)
Recipes that have been in our family for generations, inspire all our appetizers, entrees, and desserts. From our unique spice blends to our traditional slow-cooking process you'll feel like you are right here with us at our table.
It all started with samosas in a tiny 3000 sq. ft. facility in Sherwood Park, Alberta. In 1999, no one really knew what a samosa was, but once they tried ours, they were hooked. The demand was overwhelming that we needed to expand several times before going into our now 42,000 sq. ft. facility with a growing line of Indian inspired dishes. We are now the largest exporter of Indian food in Canada, bringing gourmet Indian appetizers and entrees to tables across North America.
Situated in Alberta, Canada, our federally inspected, HACCP and SQF certified manufacturing facility boasts state of the art technology providing our clients with the ultimate standards in food safety. Our robust resource management system provides real-time traceability and enables us to ensure superior quality of all our products.
Product list:
– Chef Bombay Mini Chickent Tikka Samosas
– Chef Bombay Mini Vegetable Samosas
– Chef Bombay Vegetable Pakoras
– Chef Bombay Butter Chicken Naanpanadas
– Chef Bombay Chol Naanpanadas
– Chef Bombay Butter Chicken W/ Basmati Rice
– Chef Bombay Chicken Tikka Masala W/ Basmati Rice
– Chef Bombay Shahi Paneer W/ Basmati Rice
– Chef Bombay Palak Paneer W/ Turmeric Rice
– Chef Bombay Chana Masala W/ Basmati Rice
Minimum order: 2 pallets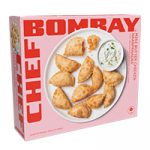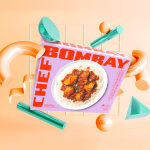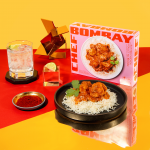 Festival Participation Days:
Details
Minority Owned Company
Woman Owned
Segregated facility