Heidelberg Foods Ltd.
Premium Quality, Great Tasting, Shelf Stable Deli Meats and Meat Snacks
Heidelberg Foods Ltd. specializes in premium quality, great tasting, shelf stable meat products and meat snacks. All products are made from the finest quality meats and spices, with no fillers. They are naturally wood smoked. Through your own private label or our Noah Martin Country Store brand, these products are an excellent compliment in your stores' deli, packaged meat or snack sections.
From its humble beginnings in 1987 as a local butcher shop to a state of the art 20,000 square foot BRC Global Standard certified, federally registered, CFIA (Canadian Food Inspection Agency) regulated meat processing facility and USA export eligible, Heidelberg Foods Ltd. has always focused its efforts on high quality products, service and food safety.
Product list: 1106 NM Summer Sausage 13oz; 1113 NM Summer Sausage 21oz; 1104 NM Summer Sausage 63oz; 1101 NM German Salami 13oz; 1102 NM Peppercorn Salami 13oz; 1107 NM Hot Hungarian Salami 13oz; 1115 NM Mild Hungarian Salami 13oz; 2501 NM Pepperoni Stick Mild 1.75oz; 2502 NM Pepperoni Stick Hot 1.75oz; 3011 NM Pepperoni Mild 5 pack 2.6oz; 3012 NM Pepperoni Hot 5 pack 2.6oz; 2551 NM Pepperoni Mini Bite Mild 4.4oz; 2552 NM Pepperoni Mini Bite Hot 4.4oz; 2891 NM Pepperoni Stick Mild 13oz; 2892 NM Pepperoni Sticks Hot 13oz; 2901 NM Pepperoni Stick Mild 21oz; 2902 NM Pepperoni Stick Hot 21oz; 1111 NM Mild Chabai Sausage 6.1oz; and 1112 NM Hot Chabai Sausage 6.1oz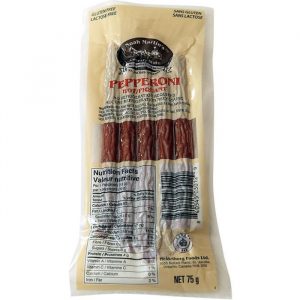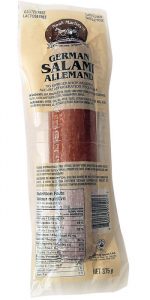 Festival Participation Days:
Details
Free from egg
Free from gluten
Free from lactose
Free from milk
Free from mustard
Free from peanuts
Free from seafood
Free from sesame
Free from tree nuts
CFIA license