Innotech Nutrition Solutions
Natural Health Products
Innotech Nutrition is a family owned Natural Health Product manufacturing company located in Winnipeg, MB, Canada. We formulate and deliver effective natural health products and foods that improve the diets and overall wellness of our families, our pets, and our customers.
The Government of Canada has identified Innotech Nutrition as an Essential Services business under Canadas National Strategy for Critical Infrastructure.
Innotech Nutrition carries a Site License through Health Canadas Natural Health Products Directorate (NHPD) and follows Good Manufacturing Practices. These are measures that ensure an effective overall approach to product quality control, safety and risk management. It can also help identify exposure to risk, therefore enables one to be proactive, rather than reactive.
Product list: 40 + all natural Vitamins, Minerals, and Supplements
Minimum order and price: 1 x master carton and $500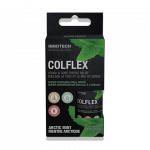 Festival Participation Days:
Details
Free from fructose, aspartame, or sucralose
Free from herbal stimulants
Free from sugar
NHPD license