Let's Pasta Food Services Ltd.
We produce the best ravioli, tortellini, gnocchi, and sauces. Our quality ingredients are sourced throughout Southern Alberta, Western Canada, and Italy!
Let's Pasta's story originates from its founders' passion for good quality cooking. Inspired by our genuine love for food and tradition, we have created what has now become an important food manufacturing company producing the freshest frozen ravioli, tortellini, and gnocchi. Driven by the strong desire to support our LOCAL agricultural community, we can guarantee natural, fresh, and tasty products. Let's Pasta utilizes cutting-edge systems that guarantee absolute quality and freshness of our products by freezing each piece of pasta within 5 minutes – all this, without the use of additives or preservatives. A unique and innovative system that combines tradition and technology to offer various wholesome preparations that preserve all the fresh and natural characteristics. Let's Pasta has always dedicated the utmost attention to quality: from direct control in relation to its suppliers, with whom the company has established relations of partnership in order to ensure receiving the best of raw materials, to the entire production cycle, which takes place in accordance with the strictest criteria of food hygiene and safety. For all our pasta we ONLY use Alberta Non GMO (Food Alliance certified) Durum Semolina and Cage Free Alberta Eggs. We are excited to discuss our gourmet stuffed pastas with unique flavors which include various selections for vegetarians with you at your convenience.
Product list:
1. Beef Tortelloni: Slowly braised Western Canadian beef, seasoned and filled into a thin pasta pouch.
2. Four Cheese Tortelloni: A delicate four cheese blend (Ricotta, Romano, Parmiggiano Padano, and Mozzarella) filled in a 7 gram thin pasta pouch.
3. Four Cheese and Spinach Ravioli: A delicate four cheese blend (Ricotta, Romano, Parmiggiano Padano, and Mozzarella) tossed with hint of spinach.
4. Honey Glazed Butternut Squash Ravioli: Honey glazed roasted butternut squash filled in a parsley speckled pasta pouch.
5. Wild Mushroom & Roast Garlic Ravioli: Wild Canadian mushrooms and garlic roasted, and filled in a pasta pouch.
6. Gorgonzola and Pear Ravioli: Imported Gorgonzola cheese and pears in a mint speckled pasta pouch.
7. Prosciutto Fig and Mascarpone Ravioli: Creamy mascarpone cheese with mission figs and Prosciutto ham filled in a black pepper pasta pouch.
8. Creamy Crab and Lobster Ravioli: Ravioli filled with Canadian Lobster and Pacific Crab.
9. Baja Ravioli (Plant Based): Black Beans, cheddar, tomato, cilantro, and lime flavored filling in a pasta pouch. Can be made Vegan.
10. Italian Hummus Ravioli (Plant Based): Hummus inspired chick peas, roasted garlic, and roasted pepper all in a pasta pouch. Can be made Vegan.
11. Gnocchi Potato: Tender potato dumpling made with Alberta potatoes, Alberta wheat flour, and cage free eggs.
Minimum order: 5 pallets (650 cases)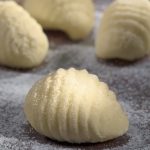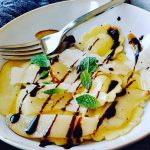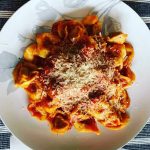 Festival Participation Days:
3/22 - Monday
3/24 - Wednesday