Lovingly Made Ingredients
Textured plant-protein solutions for meat-analogues, ready-meals, bakery, customized solutions for size, texture, protein source
Using Canadian-grown crops, we make high-quality plant protein that is consistent, versatile, and sustainable from start to finish. Our ingredients will have you "feeling the love" with clean tasting, plant-based meat analogues that are perfect for anywhere you need to add consistent texture and protein. From burgers and soups, to cereals and so much more, our plant-based formulations allow you to get to market faster and achieve better results.
Our vision is to grow our company to be as wholesome as the locally sourced ingredients we use, and to have carbon emissions as close to zero as possible. We work to create a positive impact for our supply chain and build knowledge that runs from the farm all the way to the consumer. We offer customized plant-protein blends and made-to-order size, source, content, and application options.
Product list: Textured pea protein 40-70% protein (chunk, shreds, crumb), high-protein snacks, bar inclusions, and bakery ingredients.
Minimum order: 200 kg.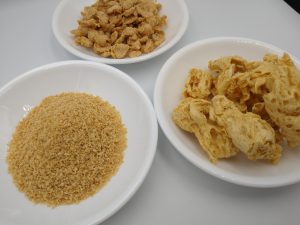 Festival Participation Days:
Categories:
Plant Based Protein Ingredients
Details
Free from top 9 allergens
Free from gluten
Non-GMO Project Verified