Number Five Food
Yo-Yo Cookies™ are a traditional butter shortbread filled with real butter buttercream
We are a Maritime base company who develop, license, and manufacture food for retail. 6 years young, we are in our next stage of growth as this new product stretches across Canada and beyond. We use a licensed manufacturing model to deal with potential capacity issues.
Product list:
– Product List Yo-Yo Cookies™ – Original Vanilla: Original Vanilla YoYo Cookies are arguably the best of our collection. Canadian butter is the largest ingredient in every cookie we make, inclusive of this one. The traditional taste of shortbread made with real butter and baked to perfection is a given with us. We then fill this traditional shortbread with vanilla buttercream in the same way they have done since their invention in the late 1800's. Not much has changed over the century, that tells you the original is here to stay! Enjoy a #littlewhitebag with your bestie over a cup of hot joe, brewed the way you like it or, give a bag for the holiday season, they will not be disappointed.
– Yo-Yo Cookies™ – Salted Caramel: Salted Caramel YoYo Cookies are an old-fashioned real butter shortbread packed with butterscotch chips cooked to perfection then filled with caramel buttercream made from real butter. We add a good sprinkle of coarse salt on the buttercream to bring these flavors together. Freshy packed into a #littlewhitebag, these happiness nuggets will bring you joy or someone you love, rip open a bag today, you will not be disappointed!
– Yo-Yo Cookies™ – Zesty Lemon: Zesty Lemon YoYo Cookies are buttery, lemony, buttery, lemony, lemony buttery shortbread filled with a real butter buttercream with an all-natural cold pressed lemon oil to give you the true spirit of pure lemon. It is all about butter and lemon coming together and being baked to perfection. When you buy a #littlewhitebag for yourself or, if you are willing, buy one for someone else – they will thank you for it as they are slapping your hand away from helping yourself!
– Yo-Yo Cookies™ – Oh My Chocolate: Oh My Chocolate YoYo Cookies are true to a dark chocolate flavor. We make our chocolate shortbread with Callebaut cocoa, which is noted as perhaps the finest in the world. We then fill this decadent shortbread with a real buttercream that has been blended with an anodized Callebaut cocoa that will satisfy but is not over sweet. Share a #littlewhitebag if you dare!
– Yo-Yo Cookies™ – Espresso Pumpkin Spice: Espresso & Pumpkin Spice YoYo Cookies are a seasonal favorite – We stop making them after Christmas until next fall. We bake our real butter shortbread with espresso which leaves that hint if coffee to mix with a pumpkin spice buttercream. It is a pumpkin spice latte in a cookie. We think these are so good they should not have to be seasonal! Traditionally made and ready for you in a #littlewhitebag. Have an afternoon of hanging out with your nearest and dearest peeps sharing a cuppa and a cookie – be careful to only invite those polite enough not to take the last cookie (it is yours!).
Minimum order: 1 pallet – 24 cases – 720 bags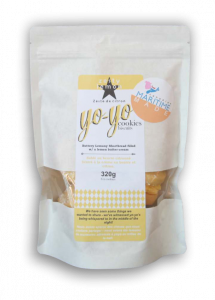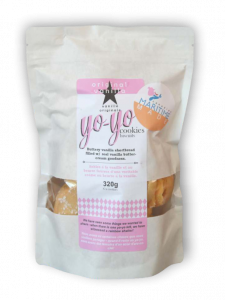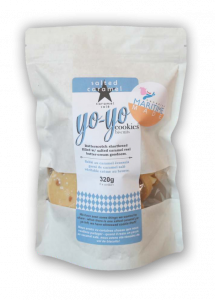 Festival Participation Days: