Nuts for Cheese
100% Dairy-Free, Organic and Fairtrade, Cashew-Based Vegan Cheese
-Organic, Fairtrade cashews
-No additives, preservatives, starches, gums, or fillers!
-Stunning cheese board centrepiece and versatile cooking and baking ingredient
-Artisan: Handcrafted, hand painted
-Meltable, shreddable, sliceable, and spreadable
-Widely recognized as Canadas market leader in artisanal vegan cheese, Nuts For Cheese is distributed nationwide through UNFI Canada and is now available in the US
-Distributed by Tony's Fine Foods (subsidiary of UNFI) in the US
Nuts For Cheese is on a mission to spread positive, sustainable change through ethically-sourced, plant-based dairy. What started as a love for sharing delicious and creative plant-based alternatives has grown into an award-winning food manufacturer and the most recognizable Canadian brand in nut-based dairy alternatives.
Product list: Nuts For Cheese is a culinary experience available in six unique flavor profiles including:
– Un-Brie-Lievable
– Artichoke & Herb
– Black Garlic
– Chipotle Cheddar
– Super Blue
– Red Rind
Minimum order: 1/2 pallet (193 cases)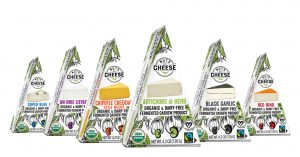 Festival Participation Days:
Details
Fair Trade
Vegan
Certified Organic (USDA)