Progressive Foods Inc.
SNAPPY Grains Barley ready in a SNAP
Progressive Foods is a private Alberta – owned company that has a patented process to cook barley efficiently without losing its nutritional value. Our passion to create to create a tasty and healthy product has inspired us to make a natural and organic barley from locally grown hulless barley.
SNAPPY GrainsTM is a Progressive Foods brand with two product lines. Natural barley in a Snap and Organic Barley in as Snap. SNAPPY Grains barley is an excellent source of protein, fibre and cholesterol lowering fibre- beta glucan. As well our barley contains a high percentage of resistant starch that is unique Snappy Grains. The many health benefits make barley a versatile grain and a great alternative to rice pasta or potato.
Product list: SNAPPY Grains organic barley; SNAPPY Grains natural Barley
Minimum order: 1 pallet (smaller amounts available evaluation)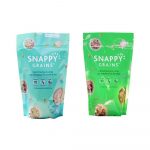 Festival Participation Days:
3/23 - Tuesday
3/25 - Thursday
Categories:
Grocery
Plant Based Protein Ingredients
Details
Kosher Certified
Non-GMO Project Verified