RJT Blueberry Park Inc.
RJT 100% Natural
R.J.T. Blueberry Park Inc. was founded in 2007 and specializes in the planting, picking, and selection of blueberries and the processing of blueberry products.
In the year of 2016, R.J.T. Blueberry Park Inc. acquired Honeyview Farm Ltd. which was founded in 1973. Starting from then R.J.T took over the processing, packaging, and sales of Honeyview Farm's all honey products, aiming to introduce the local honey with highest quality to the world.
R.J.T. is aware that food safety directly affects the health of individuals and society, and is fully compliant with food safety-related laws and regulations in Canada. We believe that the recognition of our name will continue to grow throughout the world and that there will be an increasing demand for our carefully developed product line.
Product list: Freeze dried blueberries, Freeze dried blueberry powder, Freeze dried blueberry slices, bulk raw honey, and private label service.
Minimum order: 1 pallet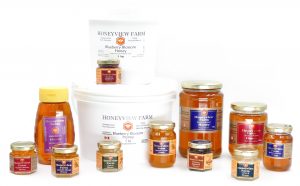 Festival Participation Days: