Tilly's Galley
Flavorful ethnic shelf-stable soup, chowder, rice, and spice mixes since 1989. Gluten-free, non-GMO.
Founded in 1989, Tilly's packages high-quality, natural, dehydrated main meal mixes and spice blends in an exciting array of ethnic and regional dishes. Quick and easy to prepare at home, consumers enjoy these non-GMO, gluten-free dishes vegan-style or enhanced with added protein. Ideal for busy families and professionals as well as camping or cottage getaways.
A rebranding campaign in August 2019 has been well received showing a 68% sales increase. This included new modern stand-up pouches and custom pop displays, with custom shelf-ready, rip-top boxes added more recently. Found in select stores of major grocers throughout BC as well as dozens of independent grocers and specialty stores across Canada our list of 120+ retailers is growing. We are striving to expand into the USA.
Product list:
Fresh Catch Chowder Mix
Manhattan Style Chowder Mix
Moroccan Lentil & Rice Soup Mix
West Coast Bouillabaisse Soup Mix
Thai Fried Rice Mix
Cajun Jambalaya Rice Mix
Curry Rice Mix
Fiesta Style Rice Mix
Lemon Pepper Spice Blend
Galley Herb Spice Blend
Moroccan Spice Blend
Curry Spice Blend
Thai Lime & Ginger Spice Blend
Louisiana Cajun Spice Blend
Blackening Spice Blend
Lemon Dill Spice Blend
Minimum order: 10 cases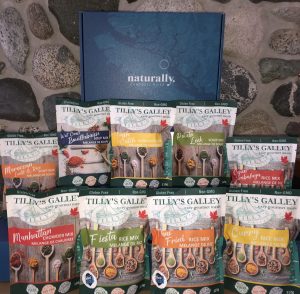 Festival Participation Days:
Details
Free from corn
Free from dairy
Free from egg
Free from gluten
Free from nuts
Free from peanuts
Free from soy
Free from sulfites
Free from artificial colors and flavors
Free from meat
Free from MSG
Non-GMO Project Verified
SFCR license