Trumps Food Interest Ltd.
Slims dessert crackers, gluten free desserts, loaves, cookies, and bars
Trumps is a purveyor of innovative wholesale dessert that sets the precedence in the culinary community while delivering the highest standard in customer service. Since 1987, the company has offered a range of 200 products that go from the everyday collection of bars, cookies, loaves to high end individual desserts, cakes, tarts, and special occasion cakes available in gluten free and vegan as well. We service major hotels, country clubs, café chains, restaurants, institutional food service, food distributors, and grocery store chains in our state of the art, GMP/HAACP, kosher accredited, and Vancouver based facility.
Product list: Slims dessert crackers (lemon, banana, cranberry orange, and cacao), gluten free and vegan desserts bars, loaves, and cakes
Minimum order: 1 pallet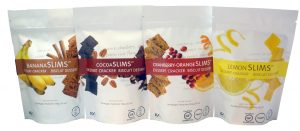 Festival Participation Days:
Details
Free from gluten
Vegan
Kosher Certified