Tutti Gourmet
Gluten, dairy, corn and soy free Biscotti
Cookies, Thins, Brittles, Crisps, Biscotti, Rusks, Granolas
At Tutti Gourmet, our mission is to create allergen friendly snacks full of flavour for Everyone (Tutti means Everyone in Italian).
Our best selling product is our gluten, dairy, corn and soy free Biscotti available in 4 irresistible flavours and available in 3 formats:
Mini 4.23 oz bag, Standard 6.34 oz and family size 14.1 oz bag.
Our modern certified BRC facility close to Montreal, Canada is perfectly suited to offer private label services for brands and retailers looking for unique allergen friendly and Keto/no sugar items.
Our capacities include: Cookies, Thins, Brittles, Crisps, Biscotti, Rusks, Granolas and powder blending and filling needs.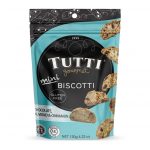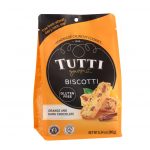 Festival Participation Days:
Details
Free from corn
Free from dairy
Free from gluten
Free from soy