Wild Tea Hard Kombucha
Premium Canadian Kombucha
Wild Tea Kombucha (WTK) has been brewing kombucha commercially since 2015. Our two lines of non-alcoholic kombucha are widely distributed throughout Canada. A new line of Hard Kombucha Ciders are a flavorful and unique addition to the line. WTK is unlike any other kombucha currently available in the market, offering traditional formulations with living cultures available in a wide variety of truly unique flavors.
Our original Cocktail Inspired line is flavored with fresh pressed juices has a bold with fun mocktail names. Our Low Sugar Kombucha Sodas classic soda flavors sweetened with stevia to deliver a bold taste at a fraction of the calories. Our Hard Kombucha Cider is unlike anything currently on the market. These feature a naturally fermented cider base, flavored with perfectly tart kombucha, 6% ALC/VOL.
WTK is a certified HCAAP facility, and following SQF safety guidelines. We will be SQF certified by May 2021. HS Code: 2202-2205-2206- dependent on product interest. Produced in EcoCertCanada inspected facility. Ability to extend organic certification to include private label products. Have capacity to do 355ml and 478 aluminum cans. Also have capacity to do 1.1L amber glass bottles, and 380ml amber glass bottles.
Can also co-pack on site, and can create requested exclusive custom flavors.
Minimum order: 1 pallet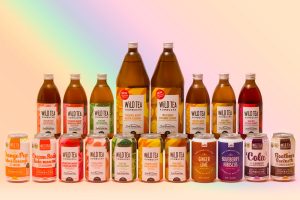 Looking for hard kombucha? REQUEST SAMPLE
Festival Participation Days:
3/22 - Monday
Multiple - Beer, Wine, Spirits Program
Details
Woman Owned
Free from gluten
Free from nuts
Produced in an EcoCert Certified Facility (USDA, Canada and EU)