Aji Gourmet
chunky chili sauces and guacamole mixes
We are a family from Colombia and we immigrated to Canada back in October of 1999. As it is our culture, I (mom) continued to make the traditional condiment called Aji for our family to put on all of our food. Aji is the Spanish word for "pepper" and the name of the typical mixture of tomatoes, onions and cilantro. I did this to keep a little slice of home in the fridge. When the kids began playing sports (hockey and soccer), Carlos (dad) and I were invited to a potluck dinner, and being South American, were asked to bring the guacamole. I had never made guacamole as it is not a big part of Colombian culture but I knew I could figure something out. In the last minute, I decided to just mash the avocado and add the Aji we had in the fridge. Well the guacamole was a HUGE hit! People were even using their fingers to get the last bits in the bowl, and went on to tell me that I should make it and sell it. I did not think much of it.
Our family then moved to the Lower Mainland as Carlos is an Architect and got work there. At all dinners moving forward, I volunteered to bring the guacamole and continued to get the same response. I became "the guacamole lady." During a "Professionals in Transition" course that I took as I was looking to become a photographer, I got the contact of a lady who dealt with specialty foods. I decided to reach out and see what she thought. Right after meeting with the lady and letting her try my Aji, I received a call from a distributor the next day telling me that if I made it, he would sell it. We met at a coffee shop and the gentleman gave me a to-do list in order to get the company started including where to find the bottles, where to print labels etc. I did my homework and got everything set up when I was contacted by a friend of a friend who owned a shop and wanted to carry my Aji! We then had an assembly line at the production facility with Allison (daughter) filling the jars and weighing them, Carlos putting on the lids, Nicholas (son), Augusto (grandpa) and I putting on shrink wraps and stickers. That is where the company started, and we now sell in most major retail chains in Western Canada and are looking to grow nationally across Canada and grow our exports to the US.
Our Mission: Integrating Latin flavours into everyday meals with versatile products – highlighting the flavours, positivity, and joy of Latin American culture.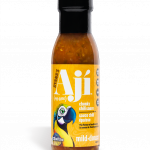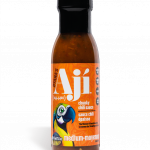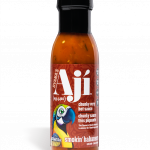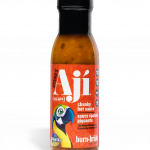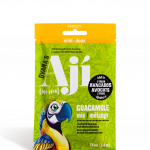 Details
Family Owned
Woman Owned
Free from gluten
Free from nuts
Free from soy
Free from MSG
Free from sugar
Vegan
Authentic Representation of Ethnic Flavors