Clever Fruit Products
Fermented Wild Blueberry Powder
Clever Fruit Products is a developer of fruit-based fermented natural health ingredients. The Company has created a Fermented Cholesterol Management Ingredient (FCMI), a fermented product based on the low bush wild blueberry which is recognized as one of the world's leading superfruits. Preclinical trials demonstrated a 40% reduction of LDL cholesterol.
To address the rising demand for holistic natural fruit powders, Clever has developed a fermented supplement product: Fermented Wild Blueberry (FWB). FWB combines the health benefits of fermentation with those of the wild blueberry, recognized for its positive impact on cardiovascular health, immune support, cognitive, vision, weight management, and diabetes.
Clever is in production and will launch FWB in 2021.
Product list: FWB – Fermented Wild Blueberry Powder
Minimum order: 7kg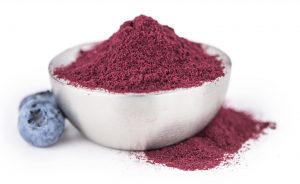 Festival Participation Days: