Cullen's Foods Ltd.
USDA Organic, Kosher, canned beans, chickpeas traceable, and sustainably grown.
Cullen Foods is a family owned producer and distributor of USDA organic and kosher certified canned beans and chickpea products.  All products are sourced in Canada and processed in a Canadian a USDA approved plant. Competitively priced and packed 12 cans to a case, Cullen products are not distributed through big box outlets and are a viable alternative to national brands. 1% of sales go towards S.H.A.R.E Agriculture Foundation programs aimed at improving small scale agriculture in South and Central America.
By working directly with Canadian growers Cullen can offer 100% traceable beans right back to the farm of origin by way of lot code at www.cullensfoods.com. Cullen's organic beans are made without any additives in a value-sized 19oz can.
Product list: USDA Organic, Kosher, 19 oz., canned black beans, dark red kidney beans, navy beans, and chickpeas
Minimum order: 1 pallet (140 12-pk cases)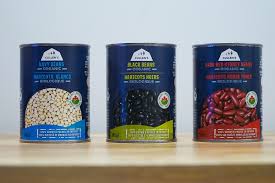 Festival Participation Days:
Details
Kosher Certified
Certified Organic by EcoCert (USDA, Canada and EU)