Oliméga Inc.
camelina raw seeds, cold pressed oil, and protein bites
Driven by the family entrepreneurial spirit, and founded in 2007 by Chantal Van Winden and her husband Raymond Durivage and family members, Olimenga has always striven to perpetuate and develop the farm with respect to the terroir and constant development. As farmers, Olimega is very concerned by the respect for our environment, for our own health and also to maintain the richness of the soil, which the quality of our Canadian crops depend on. As a result, we practice a reasoned agriculture, which respects nature and our terroir at its most, and intervene as little as possible. Olimega is the pioneer producer of Camelina products in Quebec. Certified GMO free, GFSI and organic, we produce and bottle everything on the farm. Our facilities are located south of Montreal, in Saint-Édouard-de-Napierville and we cultivate over 200 hectares of our organic crops in Saguenay, north of Quebec.
Camelina oil is an edible product that comes from the seeds of the Camelina Sativa, commonly know as False Flax or German Sesame. Camelina oil has been used in Europe, North Asia and North America for a few centuries, mostly for its significant health benefits (antioxidants, vitamin E, emollients, anti-inflammatory, anti-arthritic, hair conditioner, immune booster, etc.). Olimega, after 9 years of R&D, selected 3 unique varieties of Camelina Sativa to produce its gourmet oil. These cultivars have been selected among others for their flavors and their properties profiles, and there is no equivalent on the market with its unique and complex taste. This elegant oil is very light and smooth, its asparagus aromas will give ways to notes of sesame and hazelnut, with softness and subtlety without masking the rest of the ingredients.
We recently launched our new Camelina raw seed superfood line in Quebec, which is the next super-powered vegan source of protein. Camelina seeds are some of the highest protein seeds on the market. Finally, the price is right and the taste is super good. Camelina seeds will be the next plant-based protein food trend after the Chia and flax seeds! Crisp on the palate with subtle notes of butter and fresh grass, the texture is soft with a slight taste of mixed nuts. Camelina seeds are a great source of protein, fibre, and omega-3. They swell slightly in contact with water, no need to grind them! One of the best plant-based protein foods: 4g of proteins per serving.
PLANT-BASED CRANBERRIES SNACK: Inspired by the plant-based food trend and the sustainable agriculture movement, Olimega farm released a unique protein snack. This plant-based protein bite is very healthy, packaged in an eco-friendly bag, and add value to the lives of busy consumers. The camelina vegetal bites is the first protein snack made of roasted camelina seeds on the market. You will get 8 g of protein, 5 g of fiber and 3,5 g of Omega-3 per bag (47g / 1,66 oz). THE SUPER-POWERED VEGAN SOURCE OF PROTEIN AND FIBER: Crunchy on the palate with subtle notes of grilled sesame seeds, roasted peanuts and cranberries, the texture is simply perfect. Composed only of natural ingredients produced in respect of the environment, these protein bites have an incredible contribution in terms of vegetable proteins, fiber and omega 3.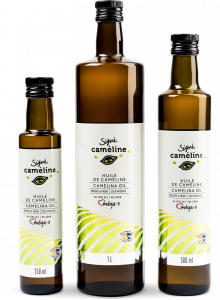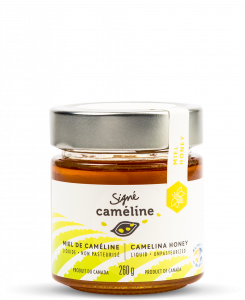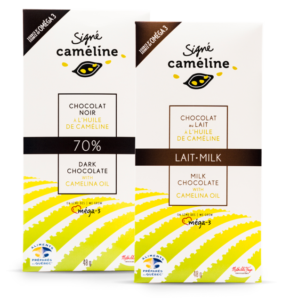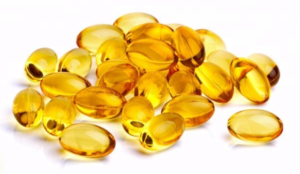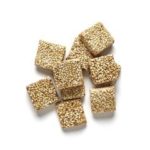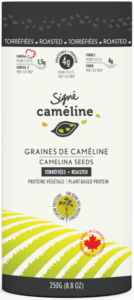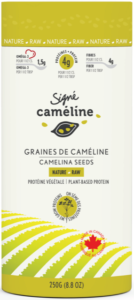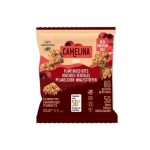 Details
Family Owned
Pesticide Free
Kosher Certified
Non-GMO Project Verified