Real Treat Kitchen Ltd.
Gourmet Organic Cookies and Drinking Chocolate - Beautifully Packaged and Unapologetically Delicious
Our gourmet cookies and luxurious drinking chocolate are crafted in small batches in the foothills of the Rocky Mountains in Alberta, Canada. Every product we make in the Real Treat Kitchen is USDA certified organic, and never compromises on indulgence.
Dubbed "Cookies for the Sophisticated Set" by New York Times Food, Real Treat's Top Shelf line is named for its natural habitat – the top shelf. These are premium cookies for foodies who love to indulge in creative, decadent bites. Some pair beautifully with wine and cheese, while others are the ideal indulgence to enjoy with a fine malt scotch.
Real Treat's new Pantry line is all about those cookies we grew up enjoying as children, freshly baked in our home ovens. The cookies of childhood tea parties and after-school snacks. The comfort cookies we still crave as adults because they taste like our mamma's love.
Founded in 2014 by Jacqueline Day, Real Treat remains 100% woman-owned and operated.
Product list: Chocolate Chunk, Oatmeal Raisin, Brown Sugar, Shortbread, Dark Chocolate Almond, Lemon Sablés with Herbes de Provence, Salted Caramel Shorties with Fennel, Dark Chocolate Chunk with Smoked Pecans, Double Dark Chocolate with a Twist, The Ginger Cookie, Spiced Pecan Shortbread, Aromatic Drinking Chocolate, and Ancho Chile Drinking Chocolate
Minimum order price: $180 USD for free freight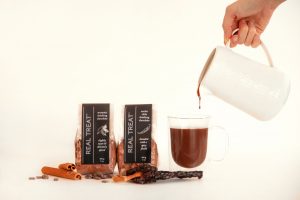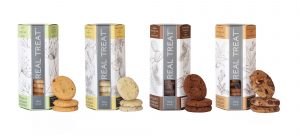 Festival Participation Days:
Details
Woman Owned
Certified Organic by EcoCert (USDA, Canada and EU)