Made Good
granola bars, soft baked mini cookies, snack bars
MadeGood® is our family business and passion, and the inspiration came out of our life-long relationship with healthy food. We set out to build a company that was an extension of our family. Having an enjoyable place to work is important and is key to our success. Our values guide our daily decisions and conversations. They help us to meet every challenge and fuel our growth into the future. Creating an inclusive community was a high priority. Half of our employees, from management to production, are women. Newcomers to Canada and people from under-represented groups enjoy a sense of belonging with us. The safety of our employees is paramount.
Beyond our immediate family, we support community organizations that improve the lives of children through nutrition, medical support, and education. Children are the future and deserve the best start in life.
Our customers trust us to provide their families with safe, great tasting products with exceptional nutrition. We manufacture in our nut-free facility and our products are free from most common allergens, are organic, and contain nutrients equivalent to a serving of vegetables.
Oats used in our products come from an industry-leading producer of pure, uncontaminated, organic, certified gluten-free oats through its Purity Protocol, farm-to-table production model. Transparency in our process, from production to store shelves, has won us the confidence of our customers. We maintain an AA rating with BRC Global Standards, a third-party auditor of food safety and supply chain management. Innovating to deliver products with more benefits and better taste, with the same quality and safety, is our objective.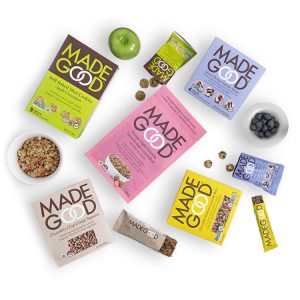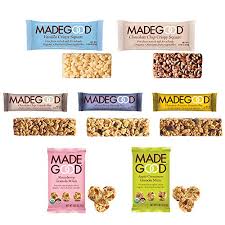 MadeGood is also profiled in Canada Innovates. Visit here to learn more.
Categories:
Animal Product Alternative
Ecosystem Emphasis
Wealth Builder
Attributes:
Kosher
Non-GMO
Organic / Natural
Details
B-Corp
Free from top 8 allergens
Vegan