Outcast Foods
nutritional plant-based powders
Our corporate mission is to create sustainable nutrition for health and the planet by altering our broken food system. Outcast Foods proprietary process is transforming the world of nutrition and enabling clients to unlock their ability to market food waste reduction. Our Zero Waste facilities upcycle surplus produce into nutrient-rich, long shelf life whole plant powders for use in natural health products, meat alternatives, pet food and cosmetics.
Outcast Foods is the worlds first company to create fully upcycled whole plant powders. By working with farms, food brokers, grocers & food manufacturers we are able to divert their surplus produce to our Zero Waste facility to be processed. The leads to a major decrease in GHG emissions and greater resource utilization. Our Zero Waste Outcast facilities consistently produce the safest and highest quality powders on the market. We exceed all GMP standards with our state of the art equipment and process. All powders are lab tested and verified through stringent procedures to guarantee excellence (microbiological, QA and analytics). Dried whole food powders are used in a variety of products from pet food, soups, protein powders, baby food, and cosmetics.
Outcast Foods ingredients are 100% sustainable, upcycled, all-natural dried fruit and vegetables that have the highest nutritional values and health benefits on the market. Our state of the art process retains higher levels of polyphenols than other commercial drying processes which are dehydrated under high heat. Outcast products maintain their real fruit colour, flavour and enhance nutritional values to consumer products.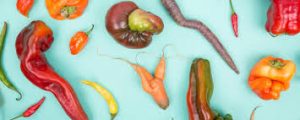 Outcast Foods
is also profiled in
Canada Innovates
. Visit
here
to learn more.
Categories:
Ecosystem Emphasis
Waste Reduction Processes
Attributes:
Clean Label
Halal
Kosher
Non-GMO
Organic / Natural