Riz Global Foods
value added lamb and wagyu beef
Based in Toronto Ontario, Canada RIZ specializes in exporting Canadian produced, halal certified, premium value-added frozen food and halal deli products to the Mid-East, the Far East and Europe. RIZ has now embarked on a program to develop retail and food service customers in the US domestic market.
RIZ is one of the only companies in North America that offers a complete range of halal certified, branded, boxed, frozen lamb, wagyu beef and bison products for the retail and food service sectors. In 2021 RIZ will introduce a complete range of halal certified beef and lamb wieners, frankfurters and breakfast strips. All RIZ products are gluten free and allergen free.
RIZ's export success in highly competitive world markets is based on the philosophy and practice of only producing premium quality, value added and halal certified food products. This practice has enabled RIZ to develop a strong customer base with medium to upper end retail and food service customers in the conventional, natural products and ethnic sectors.
RIZ uses only natural and organic ingredients in its products and has an unyielding commitment to animal welfare. This focus resonates well with both consumers and retail and food service customers and is a key reason for the ongoing success of the company.
Halal certification ensures that RIZ has complete traceability on all the ingredients, and packaging. The RIZ animal husbandry programs follow Temple Grandin's principles, support the preservation of natural habitat and help sustain biodiversity.
The animals used in the RIZ program are fed only on a 100% vegan diet with no animal by-products including no blood meal, no animal fat and no animal protein. The animals are harvested in a strict halal manner which ensures the animals suffer no stress or pain.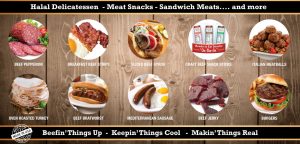 Categories:
Ecosystem Emphasis
Humane Practices
Wealth Builder
Attributes:
Clean Label
Free From...
Halal
Non-GMO
Organic / Natural